Identification

Small to medium-sized bicolored workers with a yellowish-red head and mesonotum that is partially shiny. The gaster is strongly shining and much darker than the rest of the body.

Biology

A Great Basin and Colorado Plateau species that favors arid areas. It can be found in cool desert, pinyon-juniper and coniferous forest habitats.

Aphaenogaster uinta

create nest chambers under wood or stones but will also build in exposed situations, creating ground nest openings with 6 to 8 cm diameter soil craters. They forage nocturnally and nests can contain several hundred workers.

Distribution

Range

United States. Nevada, northern California, southwestern Colorado, southern Idaho, Utah and northeastern Arizona.

Navajo Reservation Records

Found just outside of the park boundary of Canyon De Chelly National Park, Arizona; south rim Spider Rock viewing area. Several nests found along a dry wash below thin layers of limestone slabs. Foragers active in the very late afternoon and during the night. Collection locality: 36° 05'38"N; 109° 22' 28"W, 2090 meters elevation, Juniper-Pinyon Woodlands, 23 August 2009, collectors Marek Borowiec and Gary D. Alpert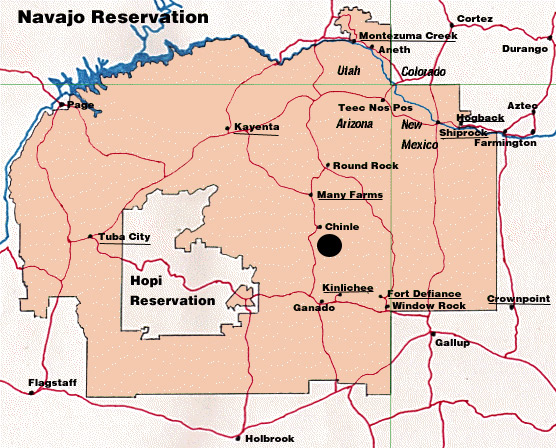 Additional Notes

Nevada (Wheeler and Wheeler 1986)

"In Nevada it is widely scattered throughout the state; 4,500-8,000 ft. We have 37 records from 31 localities. Eight records were from the Cool Desert (2 from disturbed habitats), 15 from the Pinyon-Juniper Biome, 1 from the Coniferous Forest Biome, and 1 from a building. Fifteen nests were under stones, 1 under a log; 2 nests were exposed with craters 6 and 8 cm in diameter. A mating flight occurred in Tonopah on 13 July. The myrmecophile

Pilopius ocularis

Casey (Coleoptera: Pselaphidae; det. R.R. Snelling) was found with this ant at Panaca Summit, Lincoln Co. 6,700 ft."



Colorado (Gregg 1963)

So far as Colorado is concerned, this species is exceedingly rare. The sole record I possess for it was obtained from Dr. Creighton, who collected it a long time ago in the southwestern portion of the state. According to Creighton (1950), the ant is a Great Basin insect and it is said to thrive in areas of marked aridity. From these facts, we may assume that in the Mesa Verde area,

uinta

was, without much doubt, nesting in the dry, hot part of the park rather than in a Transition Zone locality.




Etymology

Wheeler (1917) likely choose this name based on the type specimens being collected where the Uinta Mountains loomed on the eastern horizon. As stated in the original description: "Described from seventeen workers, one female and one male taken by Dr. R.V. Chamberlin at East Mill Creek, Salt Lake County, Utah."
Description
Original Combination -

Aphaenogaster uinta

- Wheeler (1917).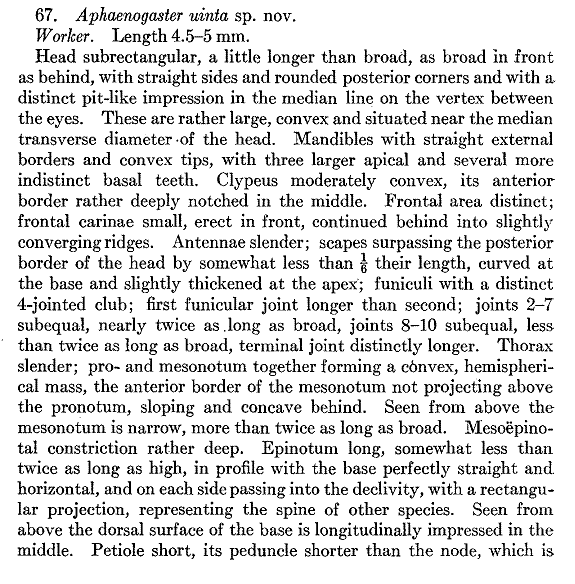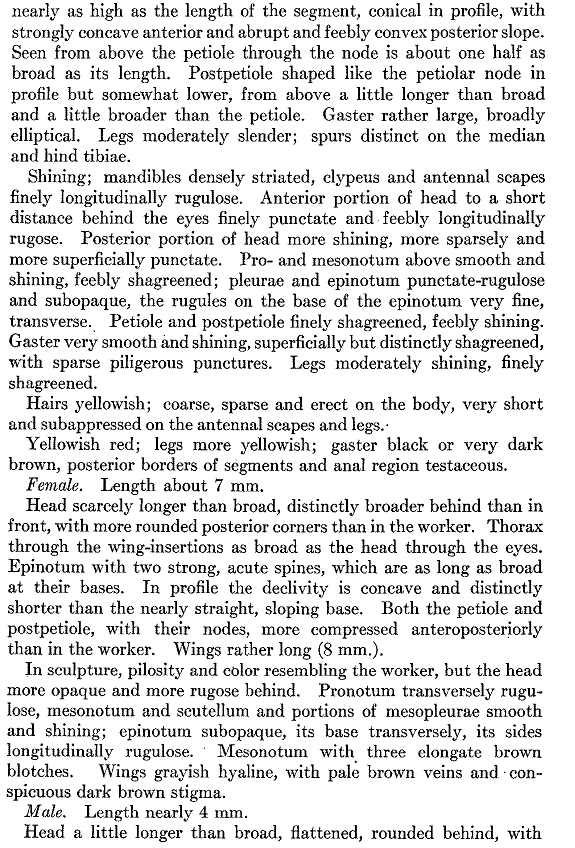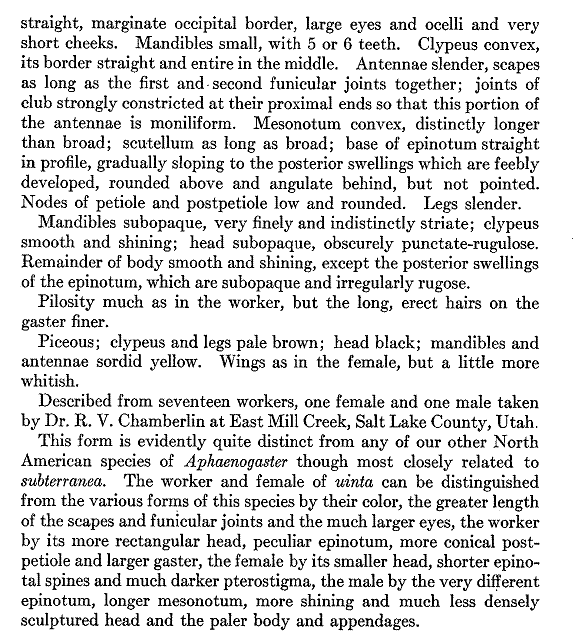 Types
Presumably in the MCZ and USNM.
Type Locality
East Mill Creek, Salt Lake County, Utah.
Literature

Gregg, R. E. 1963. 

The ants of Colorado, with reference to their ecology, taxonomy, and geographic distribution.

Boulder: University of Colorado Press.


Wheeler, G. C. and J. Wheeler. 1986.

The ants of Nevada

. Natural History Museum of Los Angeles County, Los Angeles.


Wheeler, W. M. 1917. The mountain ants of western North America. Proceedings of the American Academy of Arts and Sciences 52:457-569.



A note about these publications.

The literature cited here is not meant to be an exhaustive list of papers published about this species.
Page authored by David Lubertazzi and Gary Alpert